Here's a straightforward case of two different agencies presenting similar information in different ways, one with better design choices and one with more arbitrary, less useful choices. Both King County and the City of Seattle (where I live) publish regional bike maps with markings for bike lanes and trails. Compare how they are encoded.
The King County Bicycling map uses this legend (trimmed for relevance).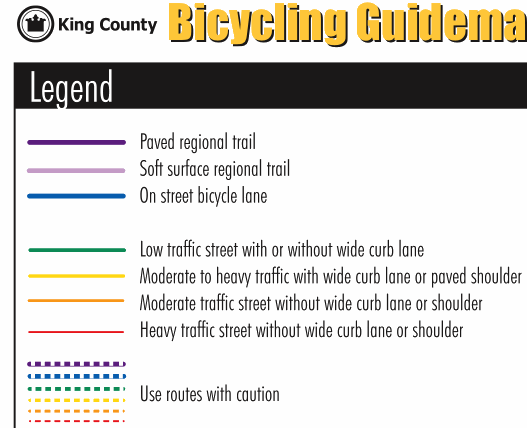 The more desirable routes, with bike lanes or wide shoulders on low-traffic streets, are in cool colors, green, blue, and purple. Less desirable streets are warmer, yellow and orange, and red is used for the worst option: heavy traffic streets without wide curb lane or shoulder. These color choices closely match our cultural conventions of green for go or positive, and red for stop or negative. They key is also sorted in order of best to worst option.
Further, King County has differentiated their options in two other ways. They've widened the line for desirable routes and narrowed the line for undesirable routes. This is useful redundant encoding. Finally, they've used another encoding method, broken lines, to indicate areas to use caution. It's very good overall. The one addition I'd like to see is steepness grade indicators, which Seattle's map includes.
Compare the City of Seattle's bicycling map legend.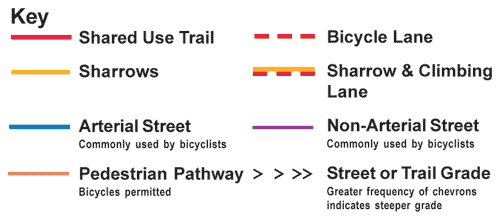 Some appropriate routes are labeled in warm red and orange tones, while arterial streets are in blue.* It's unclear what the code for an arterial with a bike lane is, or if such a thing exists. There is no further encoding for difficult areas. Seattle does a good job of clearly indicating streets with a steep grade, but that's the only saving grace. Overall this is an arbitrary and unhelpful encoding scheme which will limit understanding, and inhibit its utility.
* I can only imagine they're reserving green for "roads with heavy traffic, no bike lane, broken glass in the shoulder, and frequent loose dogs."