After seeing a poor infographic re-posted, I briefly ranted on twitter:
Terrible presentation of data. The bars are OK, the rest is worthless. http://bit.ly/o76BOm @litmusapp #fb #li
I don't mean to be harsh, but #infovis culture needs constructive critique to improve, not just reposting. /cc @visualizingOrg @litmusapp
To put my mouse where my mouth (well, keyboard) is, I present two quick & dirty re-drawings, with commentary, of the first two sections of the poor infographic.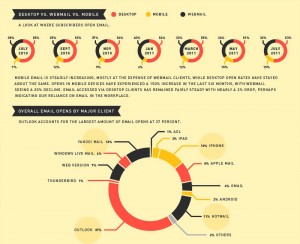 (click for full-sized image)
In both of these sections, an aesthetically pleasing, but not-very-functional, donut graph has been used. In both cases, it's the wrong choice, though for different reasons.

Taken individually, the donuts in the first section aren't bad: they're dealing with a few wedges, and fine-grained comparison between wedges in the same donut isn't necessary. These individual donuts are good for a glance at the relative share of the total market, and do a perfectly good job of it.
However, the first section is showing time series data that spans all seven donuts. Time series data is often best shown with a line graph. (Of course the best practice varies, depending on what exactly needs to be revealed.)
My redraw: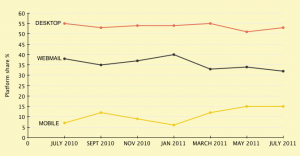 (click for full-sized image)
In this case, where small differences are relevant, the line graph shows the sequential changes more easily than can be seen by comparing similar wedges between donuts. (This is why the wedges all need to be labeled; the differences are too subtle to accurately discern.) The line graph also shows the trends more clearly, for the same reason: it's much more clear at a glance which values are larger and smaller than others in the series.
In the second section, a donut graph is also used. While it is intended to show fractions of a whole (thumbs-up!), it fails two main tests to be the right choice for this data:
it's showing too many relevant wedges
many of the wedges are very similarly sized
(Another major, though unrelated, flaw is the choice to sort in an non-standard manner: alphabetically-by-parent-company-except-microsoft, and then not telling us what the sort order is.) The result is a visualization where the visual properties don't much help us do the actual task at hand: comparing the share of each client.
My redraw: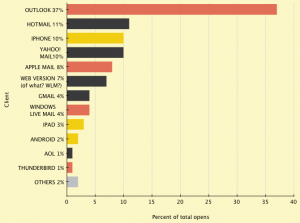 (click for full-sized image)
Here is a simple bar graph. It's not nearly as visually exciting, but it's much easier to actually extract knowledge from. I've used the standard sort order, by magnitude, but you could easily sort alphabetically or by company as well.
In both cases, the original donut graphs sacrifice efficiency and their ability to inform for the sake of aesthetics and novelty. As I've said before, successful visualizations have all of these characteristics, and aesthetics shouldn't trump function. To learn more about how to design visualizations well, check out Designing Data Visualizations.