Here's my table of properties and best uses of visual encodings. Feel free to download the PDF.
Update September 25, 2013: I wrote a whitepaper for IBM that explains the use of the table.
Please note that I'm not the first person to create a table like this, this just happens to be my take on it. I got my first glimpse at this sort of table in Jock Mackinlay's PhD thesis from 1986.
A really nice table comparing inclusion of visual properties/attributes in tables has been put together by Richard Brath.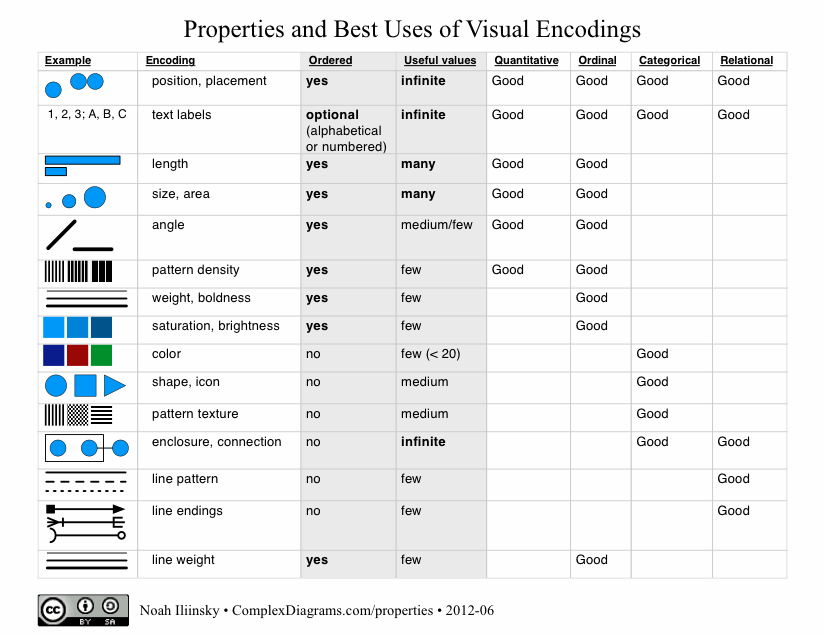 From Chartball.com: Pro-football game charts.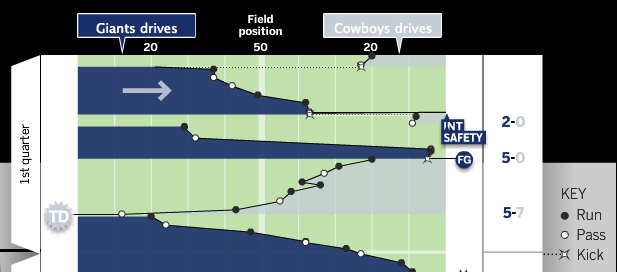 They've done an excellent job here, visually representing:
direction of play
position of each down
game time on the vertical axis
type of play (run, pass, kick)
scoring events
other events, such as fumbles and intercepts
Great use of the field metaphor and direction, as well as team colors. I'd like to see what this looked like with encodings for the downs (shape for type of play, and down encoded by saturation?), but overall it's excellent. And I should note that the detailed information on each play is available when you mouse-over each event.
I'm thrilled to announce my latest book, Designing Data Visualizations.
The goal of this book is to teach you the process of designing a visualization, presenting the important considerations, and informing the choices that you make. It's tool-agnostic, and is entirely applicable to visualizations with high and low volumes of data, and to both quantitative and qualitative visualizations.
I was fortunate to have Julie Steele as my co-author on this book. Julie was the lead editor and a contributor to Beautiful Visualization.
The origins of my thinking on this topic lie in the work I did on my master's thesis. This book benefits from an additional five years of experience and research on my part, as well as Julie's vital insight, knowledge, and contributions.
For this book, we (the authors) are recommending the electronic version over the print version, as that will allow you easy access to updates and revisions as we add more examples and such. Also, the print edition will sadly be only in grayscale, whereas the electronic version will be full-color.
Update: looks like we'll be providing a full-color download of the images so that people who buy the print edition don't miss anything.
We're very excited about this book. We hope you will be too.
This is the video of the talk I gave at sameAs in London on March 28th. It's about 15 minutes, and is a lighthearted look at good and bad visualization techniques and designs. The audience was about 130 geeks with pints; my slides were being controlled for me. Many thanks to @Kaythaney for inviting me to speak. Enjoy!
SameAs Meetup on Visualisation – Noah Iliinsky from Steven Allen on Vimeo.
SameAs meetup, An evening of visualisation.
Monday 28th March at The Driver, 2-4 Wharfdale Road, Kings Cross, N1 9RY London.
In this talk Noah Iliinsky
Co-author of Beautiful Visualisation.
http://oreilly.com/catalog/0636920000617
http://twitter.com/#!/noahi
Hosts
@Kaythaney & @mza
This is an excerpt from my chapter in Beautiful Visualization. You can download a pdf of the entire chapter.
Chapter One: On Beauty, by Noah Iliinsky
This chapter is an examination of what we mean by beauty in the context of visualization, why it's a worthy goal to pursue, and how to get there. We'll start with a discussion of the elements of beauty, look at some examples and counterexamples, and then focus on the critical steps to realize a beautiful visualization.
[I use the words visualization and visual interchangeably in this chapter, to refer to all types of structured representation of information. This encompasses graphs, charts, diagrams, maps, storyboards, and less formally structured illustrations.]
What is Beauty?
What do we mean when we say a visual is beautiful? Is it an aesthetic judgment, in the traditional sense of the word? It can be, but when we're discussing visuals in this context, beauty can be considered to have four key elements, of which aesthetic judgment is only one. For a visual to qualify as beautiful, it must be aesthetically pleasing, yes, but it must also be novel, informative, and efficient.
Novel
For a visual to truly be beautiful, it must go beyond merely being a conduit for information and offer some novelty: a fresh look at the data or a format that gives readers a spark of excitement and results in a new level of understanding. Well-understood formats (e.g., scatterplots) may be accessible and effective, but for the most part they no longer have the ability to surprise or delight us. Most often, designs that delight us do so not because they were designed to be novel, but because they were designed to be effective; their novelty is a byproduct of effectively revealing some new insight about the world. keep reading…
There are many visualizations of social networks, most of which focus on who knows who. They provide a basic view with limited utility. Some visualizations refine this basic view by grouping areas of people who share common contexts (e.g. college, work, etc.). That approach can add some insight through the slightly increased complexity, but it is still a very limited view of the network.
This movie reveals more knowledge by showing not only which individuals know each other, but also when and how the social network formed, by calling out the contexts and individuals responsible for an introduction between two new friends. Visually representing more complexity allows the viewer a deeper understanding of the social dynamics and causalities involved.
Comments closed due to spam.
Older Posts »