I just tweeted this:
Step 5: What graph do I use?
4: What data matters?
3: What Q's need answering?
2: What actions do I need to inform?
1: What do I care about?
Please enjoy content based on my Four Pillars of Visualization design principles. I hope you find it useful. The best way to reach me to provide errata and feedback is on twitter.
The Four Pillars are:
Purpose (the why)
Content (the what)
Structure (the how)
Formatting (everything else)
Here are the resources. I'll update this page as new material comes online. Everything is free.
A five-part webcast series on good visualization design, based on the Four Pillars, and PDFs of the slide decks: 1, 2, 3, 4, 5
Concise blog posts discussing the Four Pillars. The depth here is roughly equivalent to what I cover in the standard Four Pillars lecture (as seen above).

Unfortunately, these posts have been removed by IBM. I need to reconstitute them.

Longer whitepapers that go more in-depth on how to make good design choices.

A slide deck from spring 2016 covering the process, which works for a lot of styles of communication, not just visualization.

Here are the various, videos, recordings, transcripts, notes, and slide decks from some of the talks I gave in the first half of 2012. With one exception, all of these are free to view or download.
January 21, ORDcamp Ignite Talk Data Visualizations Done Wrong: live lecture recording. 5:11 (quick and fun)
January 25, Strata presentation preview Design Thinking for Effective Data Visualization: online lecture. 17:15
January 27, UIE Virtual Seminar preview podcast The Power of Data Visualization: audio recording, transcript. 29:50
February 2, UIE Virtual Seminar Telling the Right Story with Data Visualization: online lecture with slides; paid. 90 minutes. (With free preview. 1:08)
February 23, Visual.ly blog guest post Why Is Data Visualization So Hot?
March 16, UIE Virtual Seminar follow up podcast: audio recording, transcript. 30:38
April 2, Where conference interviewed by Julie Steele: video. 11:55
April 3, Where conference keynote When Not to Use Maps, live lecture recording. 11:32 (this one is fun too)
April 4, Linked In Tech Talk Designing Data Visualizations, live lecture recording, with extra conversation about visualization of social networks. 1:49:12
July 12, dotAstronomy conference keynote How to be a Data Visualization Star, with Julie Steele: live lecture audio recording, with still images, slides, and time-coordinated notes twitter responses. 53:05
July 16, European Bioinformatics Institute guest lecture Designing Effective Data Visualizations, handouts, sketchnotes, slide decks (I love the sketchnotes).
Here's my table of properties and best uses of visual encodings. Feel free to download the PDF.
Update September 25, 2013: I wrote a whitepaper for IBM that explains the use of the table.
Please note that I'm not the first person to create a table like this, this just happens to be my take on it. I got my first glimpse at this sort of table in Jock Mackinlay's PhD thesis from 1986.
A really nice table comparing inclusion of visual properties/attributes in tables has been put together by Richard Brath.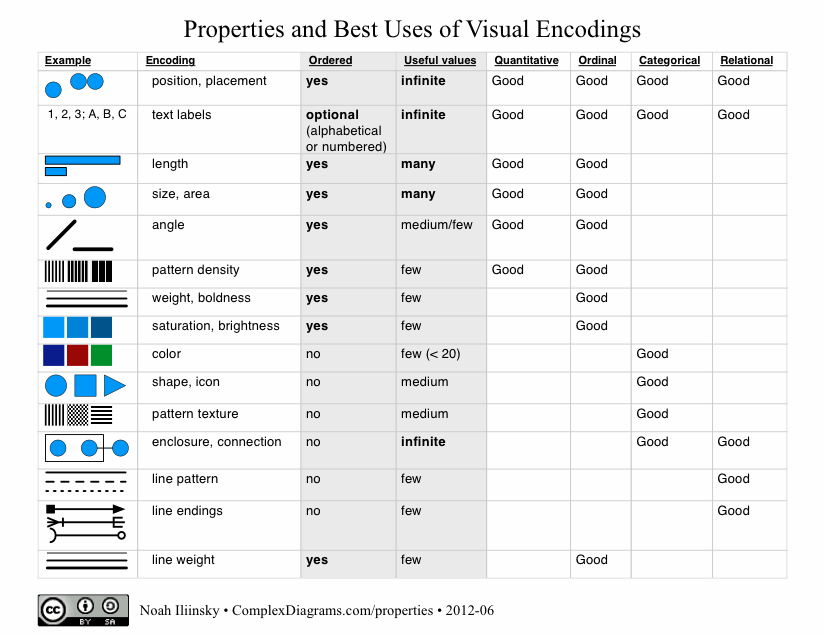 I'll be giving a workshop on effective data visualization. Get a 25% discount when registering by using the code SPEAKER25
Hope to see you there!
Last summer I gave a talk at Ignite Seattle on how to buy a practical bike. This is the slide deck for that talk. There's no audio, but you can gather most of it from the images. The summary is below the presentation.
In general, when shopping for a bike, the best thing you can do is ride several and find one that sings to you. Details of manufacturer and parts are less relevant if you like how the bike feels when you ride it.
At a give price point, most new bikes are going to have a similar mix and quality level of parts.
Look for a bike where you can get the handlebar at or above the height of the seat when the seat is adjusted to your leg length.
Low gears are critical if you live near hills or plan on carrying or pulling loads.
You probably want at least 32mm / 1.25″ wide tires. You don't need a suspension, or knobby offroad tires, or any tread at all, in the city.
Your frame should have room for fenders (you can wait until September for those, but shops may install them free if you buy with your new bike).
Older Posts »